In a world of sustainable construction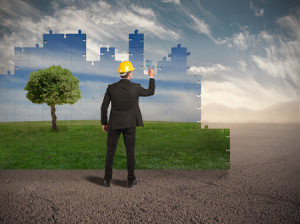 Whether it's improving energy efficiency or softening the blow of climate change, organizations around the world are doing their best to meet the demands of a marketplace that increasingly has the planet's welfare in mind. There's no more evidence of this than in the construction industry, where companies are going out of their way to switch to more efficient, environmentally-conscious techniques.
When you talk about sustainable building, you are referring to analytical, data-driven approaches to construction problems. Whether you are working on a new building installation, an electrical upgrade or complex work on a boiler system, new techniques solve problems directly related to waste and inefficiency.
Some consider the word "holistic" an esoteric and hard-to-understand word. In fact, "holistic building" refers to a method that creates an integrated community space while respecting the needs of the surrounding environment.
In many cases, sustainable construction can be viewed as a way to light a fire under economic development. The fact is, green construction can impact a number of industries, from healthcare to manufacturing. Operating in "green buildings" provides companies — and their employees — with a positive sense of corporate social responsibility.
As the promise of greening towns and cities becomes a reality, green builders and entrepreneurs will have greater opportunities to make their mark on the construction world. Would you like to ensure you are at the forefront of that revolution? No problem. Give Slade a call.