Birmingham on a budget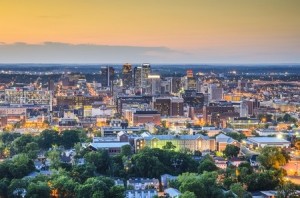 You'll find Slade's primary office located in the beautiful city of Birmingham, Alabama. Back in 2006 we put our roots down in Birmingham and have been growing to suit our clients needs ever since. Slade is a general contracting firm specializing in environmental consulting, construction and urban planning. From our humble beginnings in Birmingham we've built our reputation one project at a time, expanding our operations to North Carolina, Texas and Georgia. But Birmingham will forever hold a special place in our hearts. To share our city with you we thought we'd share some budget-friendly ideas for a fun night on the town, a family outing or date night.
Birmingham on a budget
Take a stroll through the Civil Rights District. Imagine and relive the scenes where headlines and history were made. You'll find many signs, monuments and statues commemorating the brave struggles of an important era in our nation's history.
Pay a visit to Birmingham's largest Farmers Market, the Pepper Place Market. Sample delicious local food and admire unique handmade arts and crafts every Saturday. Arrive early and hungry to savor the flavor of our city and caffeinate yourself with some quality coffee.
Escape the city with a hike in Birmingham's Red Mountain Park. Discover 12 miles of trails suited for hiking or biking, a sizable dog park and a peaceful forest to cultivate your zen. Make sure to stay for sunset; the views of the city are truly breathtaking. A true Birmingham local can point you in the right direction to the best sunset spot.
Catch a flick at the Alabama Theater, a historically charming gem. You'll find an eclectic offering of films and flicks that you might not discover at big, commercial theaters. Check their schedule often for fun Harry Potter marathons and holiday-themed movies.
Our passion for life in Birmingham runs deep. We love being a part of this city and we strive to make it a more beautiful, safe and wonderful place to live. If you need general contracting help for any project, big or small, we want to be there to help your dreams come true. Schedule a consultation with Slade today to build better in Birmingham.