Safety on-site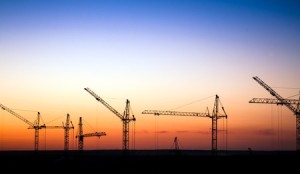 Construction sites can be dangerous places. You've seen the ubiquitous chain link fences surrounded by NO TRESPASSING signs, the orange safety gear, and the yellow hard hats. The hazards plaguing construction sites are many, thanks to heavy machinery and the flurry of activity as crews work with tight timelines. But what you may not realize is that there are many unseen hazards and dangers lurking just below the surface of the site.
Investing in your site before building commences can save huge costs and prevent frustration down the line should you encounter a problem that could have been detected earlier. It's worth the expense to thoroughly evaluate your site. Slade offers a full suite of construction material testing options to ensure that a site is suitable and safe. No project is too big or small for Slade to tackle. We are committed to seeing a project through from start to success. We've worked with an impressive list of clients that reaches from the EPA, to the Forest Service, to the City of Atlanta to the University of Alabama. We are eager to add more clients and safely completed jobs to our roster of projects.
To evaluate the safety of your construction site we offer the following services:
Soil Testing
Asphalt Testing
Concrete Testing
Aggregate testing
Rebar Inspections
Steel Inspections
Non-destructive Testing
Geotechnical Services
Risk Assessment
Solid and Hazardous Waste Management
Groundwater and Soil Testing
Speaking of hazards, Slade also offers a host of training courses and specialized programs to train your crew for specific situations or workplace hazards. We offer customized workplace training and can cover everything from the threats posed by asbestos to lead, to proper protocol for HAZMAT and HAZWOPER. Visit our website to learn about the wide variety of services we offer for construction projects.
Slade is deeply concerned about sustainability and committed to decreasing the environmental impact of construction while creating more structures with sustainability in mind. Let us bring our innovative approach and vision to your next project. Schedule a consultation today.